History of the Canale workshop from 1827 to nowadays
From 1827 to nowadays
Here is an extract from the discovery magazine "Paname" on a french TV "France 3".
Discover a part of our workshop located on the quai de l'horloge in Paris
Video of the Canale Medals Workshop in Paris
The buildings on the "Quai de l'Horloge" have two facades, one on the river-side, the other facing the "Place Dauphine". Number 37 of the "Quai de l'Horloge", corresponds to the 24 Place Dauphine. In 1777 this building, already a century and a half old, was bought off by Claude Etienne de la FRENAYE, with in order to have it redone. It was rebuilt in 1780, based on the old supporting walls which had been kept.
In this building, on the first floor above the intermediate storey, dwelled the master engraver PHILIPON; his daughter Manon was born there in 1754. She married Jean-Marie Roland de la PLATIERE. Manon had been given a very thorough education, was very self-sufficient, both sensible and romantic. This woman, admired in her lifetime as well as after her death, no longer occupied the 37 quai de l'Horloge when she was arrested in 1793*. We now know that Mm ROLAND wrote her memoirs while in jail and that she managed her own defence in front of the jury which were to condemn her to the guillotine. When passing by the statue of liberty, she uttered these words which still remain in everyone's memory: "Oh freedom, how many crimes have we committed in thou name."
Still 37 quai de l'Horloge, DURANT founded in 1827 a workshop where all engraving tasks could be carried out: numbers on gilded works, rings, armours, etc. In 1852, he created a partnership, thus from 1852 to 1863 the name of the company was DURANT and MONNEHAY; from 1863 to 1899 MONNEHAY was business partners with GODARD, who was the first to issue medals, and eventually it's GODARD on his own from 1899 to 1912. GODARD had added to the activities of the engraving workshop the issuing of medals. Finally, in 1912, Victor CANALE took over the shop, and he was soon to lead the business to a stupendous expansion. In 1969, their son Philippe, a graduate of the BOULLE school and of the "École Nationale des Arts décoratifs" took over, until 1997 when he handed over the shop to his youngest son Dominique, who has been running the company since 1992.
*During the French revolution which eventually led to the slaughter of all people from aristocratic lineage.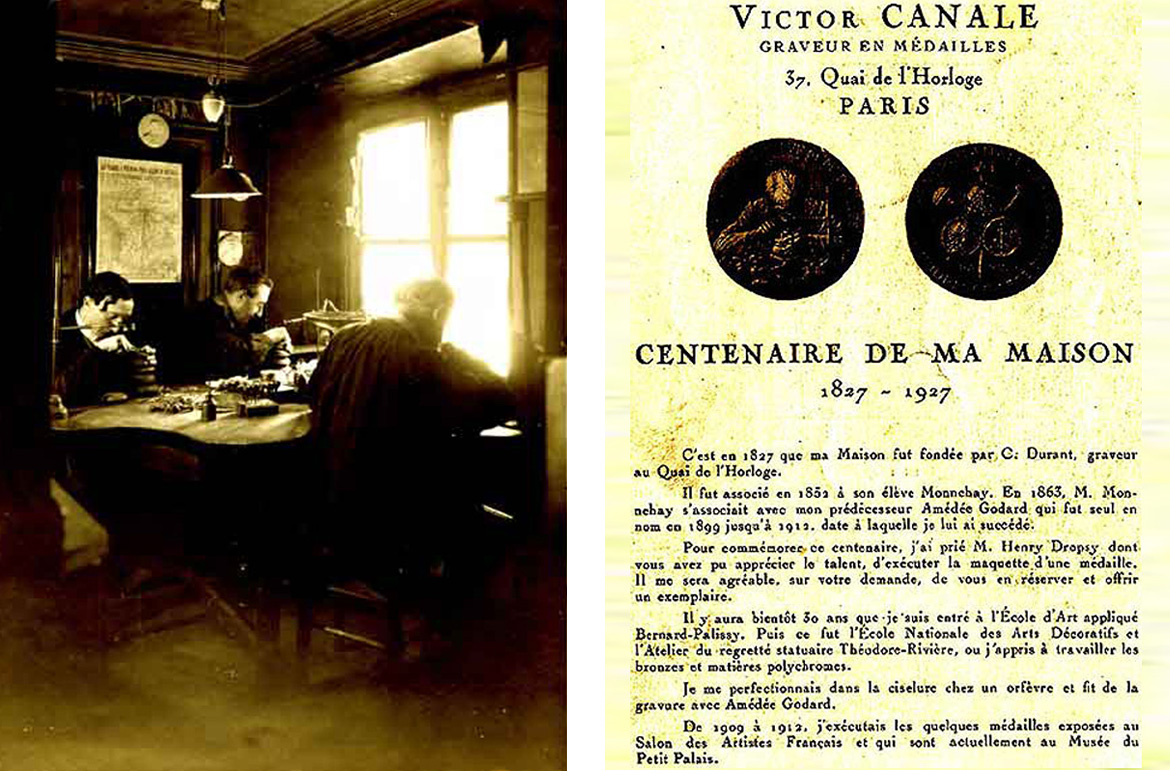 On the right, Victor Canale in the engraving workshop of the Quai de l'Horloge.

Biography of Victor Canale by Henri DROPSY
Born on the 15th November 1883 in Neuilly (Paris suburb), of Corsican parents, CANALE was the second born out of a family of 6 children.
He was a student and the Sainte-Croix high school, and had during a certain time Sacha GUITRY as a schoolmate. Showing at an early age an inclination for drawing and painting, he entered the decoration workshop of the Bernard PALISSY school, school for the use of Fine Arts in industry. Among the apprentices attending the school at the same period, were the engraver DARAGNES, the enamel painter FREMONT, the sculptors LEYRITZ and NAVARRE, the decorator René PROU, etc. Afterwards, he followed classes at the school of "Arts Décoratifs" and worked in the workshop of Théodore RIVIERE.
Curious about the different mediums in which to express himself, very dexterous, gifted with taste and wit, self taught: he had the talent for intuition, guessing and invention. He gradually turned to medal making, which engulfed him completely, and to which he devoted all his time. Thus, he produced, amongst others, the medals of the Circuit de l'Est, and the portraits of PUGNO and Nadia BOULANGER. The Canale sisters played the piano while he was an organist.
Unfortunately, his father died rather young; he then had to give up the art of medals and earn a living. He entered the GODARD workshop, where he once again but in a different way, found his beloved medals. He got married. Of his first marriage, he had a daughter named Charlotte, who later became my student at the "Beaux-Arts" school, and then married Raymond CORBIN whom she had met at the workshop, and a boy named Jean, a qualified teacher in History and Geography, many times the winner of the "Concours Général". Of a second marriage (1935) he had another son, Philippe, who after following classical studies at the Sainte-Barbe high school, entered the steel carving workshop of the "Ecole Boule" and finished studying at the "École Nationale Supérieure des Arts décoratifs"; he followed in the footsteps of his father, of whom he took over the work, after his mother.
After the upheaval generated by the ghastly disaster of the first World War, CANALE understood that he had to try and bring to life what all the young medal craftsmen desired before the war, a renewal of their art. Like us, CANALE sacrificed his time and energy to this cause. He was the editor of ROY, PONSCARME, CHAPLAIN, NOCQ, YENCESSE, J. B. DROPSY. He continued to develop his issues with DAMMANN, POMMIER, BLIN, PETER, DELANNOY, DESVIGNES; DANIEL- DUPUIS, LENOIR; DAUTEL, CHARPENTIER, BOUCHARD, BRIQUEMONT, BOURGOIN, PIERRE ROCHE, myself and many others still.
He organised several exhibitions in his workshop, even started publishing an album of his contemporary medal makers. His efforts have not all been in vain: The transformation and momentum which took place in France during this period in the art of ornamental relief, is in part thanks to CANALE.
He was an outstanding craftsman, gifted with a highly creative and alert mind. He conducted and successfully finalised much research: embossed plates, mechanical letter engraving, pewter casting, bronze casting – He had worked on casting with LIARD - medal patina, issuing of medals on plinths, etc… As a carver and silversmith, he also produced silver dishes and swords for the members of the academy, some of them according to models created himself. Once he had acquired all possible knowledge in metal, he turned to clay and executed, among others, my own models in enamelled clay, as with MULLER's sculptures in the round. Being rather disinterested, he never gave much importance to the rational exploitation of his work. Once more, the 1939-1944 war is characterised by a period of slumber, not until 1946 will things pace up, with some alterations in the type of customers. Indeed, artistic medal collectors have disappeared, giving way to either antic or company medals.
After his accident in 1948, he had to stop all activity. His wife, already in charge of all the sales aspects for which he took only a mild interest, had learned the trade at his side, and took over the whole business, with the precious help of a limited, but devoted and multitasked team. Victor CANALE died in 1959, leaving behind a significant business which possesses an extensive medal collection, religious or profane, in all kinds of metals, of the most diverse subjects, baptism medals, weddings, etc., models of enamelled clay: Ways of the cross, crucifixions, astrological signs, seasons, and many more.
The LITTRE dictionary gives the following definition of the medal: "Piece of medal representing the face of a famous person or a significant event", the LAROUSSE dictionary adds "Piece of medal representing an object of devotion, or given as an award in certain public competitions". From one to the other, over a quarter of a century, a clear evolution can be observed, an extension of the field of the medal: our own epoch has vastly followed this movement and CANALE is one of those who most actively contributed to this extension.